Today, more people are concerned with their health than ever before. A healthy workplace is quickly becoming one of the major criteria in job selection. With our data driven approach, we select workplace wellness initiatives based on the employee's needs. Using our mobile app, we measure and improve the effectiveness of the wellness initiatives. With our challenges we optimise employee engagement. Our onsite workshops make workplace wellness accessible to employees. We provide companies with the insight required to make sense of workplace wellness.
Contact us for more information

Proud To Call These 
Our Clients
"As a company, we're only as good as the people we work with, which is why we only work with the best. With that in mind, we are delighted to have Zevo Health as our trusted wellbeing partner.

Bringing a wealth of experience to the table, Zevo Health have gone above and beyond our expectations in designing a creative and tailored wellness solution for our diverse staff & work environment. Their innovative approaches to integrating wellness in the workplace has ensured successful outcomes and is extremely well received.

Employee engagement feedback has consistently recognised the value that our staff place on their programmes and the creative, proactive approach shown from Zevo Health, really makes them stand out as leaders in the wellness field.

I have no hesitation in recommending Zevo Health as a trusted wellness partner for any organisation seeking to implement a meaningful, evidence-based, and valued wellness programme that will have a long-term successful impact on your business."

by Anne Heraty, CEO Cpl Resources plc
Data Driven
Workplace Wellness
The effectiveness of workplace wellness initiatives depends on many factors including company culture, demographics, workload, and more. Without the right information, it can be an almost impossible task for HR departments to select the right workplace wellness initiatives. With our technology, we measure the employees need and adapt the workplace wellness programme to it. We continuously measure the effectiveness of the programme and report back to HR.
Request a trial
At Zevo Health, we use a phased approach. We commence with a research phase. We measure the needs of the organisation and employees. In the second phase, we propose a strategy for workplace wellness. This strategy will address the organisations' needs, but will also leave room to respond to changes in requirements. This way we guarantee a level of flexibility in the workplace wellness strategy. In the third phase we implement the programme, and continuously measure the effectiveness. We report back to the organisation with the results and propose changes to the programme if needed. Contact us to learn more about how we could optimise your workplace wellness strategy.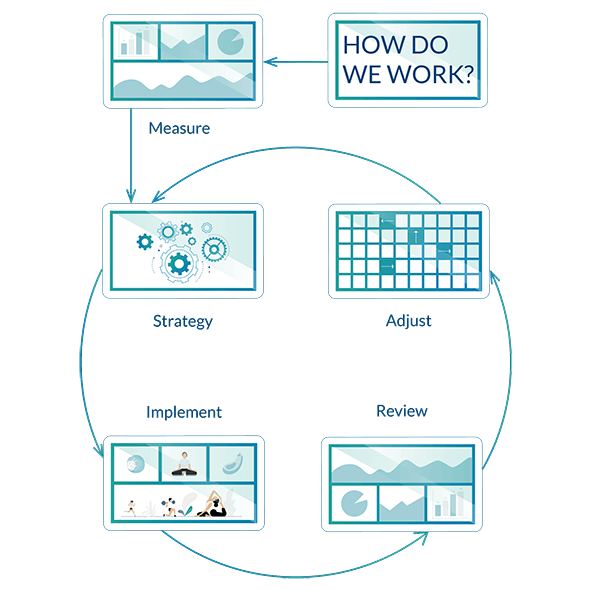 Onsite
training programmes
We offer a range of onsite and online workshops and health clinics that benefit your employees on all levels. Possible workshops and health clinics include:
Mindfulness at work
Work / Life balance
Resilience tailored for junior or senior staff
Exercise & Nutrition
Emotional Intelligence
Productivity in Management
Mindfulness for Managers
Mental health awareness training for managers & team leads
Ergonomics training for office and work from home employees
Positive psychology
Specific mental well being training for online content reviewers
Learn more