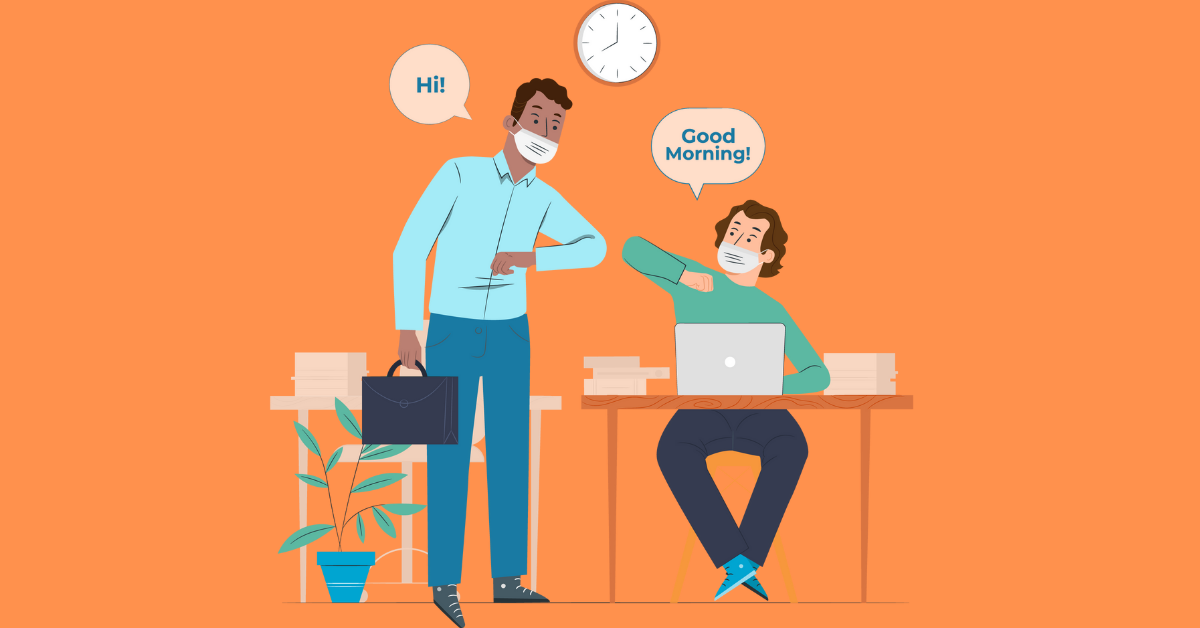 It was March 2020 when Ireland first entered a strict lockdown due to the COVID-19 pandemic. Employees learned how to use video conferencing software, attempted to keep up good working relationships with colleagues while distanced, and even simultaneously supported children through virtual learning during their workdays. It has been a time of great uncertainty and therefore a return to work as normal may be a welcome relief. However, some employees may be experiencing a new wave of uncertainty about returning to the office.
The impact of COVID-19 on wellbeing
Uncomfortable feelings of fear, anger, and/or sadness may arise for some employees returning to work. In fact, research throughout the pandemic has demonstrated significant mental health impacts of continuous restrictions and isolation. Employers may find that their employees have experienced these impacts over the past 15 months, and many may still be struggling with these impacts as they return to work.
Studies conducted by leading universities during initial lockdown restrictions found that amongst 1000 participants, 41% reported feelings of loneliness, 23% reported depressive symptoms that were clinically significant, 20% reported anxiety symptoms that were clinically significant, and 18% reported clinically significant symptoms of post-traumatic stress. The College of Psychiatrists of Ireland also reported that psychiatrists reported significant increases in referrals and relapses for new and existing mental health difficulties such as depression (75%), health anxiety (64%), and eating disorders (38%). In addition, some research has indicated impacts on physical well-being, such as decreased musculoskeletal health and increased exhaustion related to virtual working.
Employer responsibility for employee well-being
With these statistics in mind, employers must be conscious of their employees thoughts and emotions related to a return to work. If employees have experienced a decline in mental well-being since the start of the pandemic, this could be exacerbated by the uncertainties of returning safely to work.
Research indicates that organizations exemplifying healthy work cultures based on integrity, respect, equality, teamwork, and worker involvement have high retention rates2. During a pandemic, with heightened emotions across the board, there are a handful of behaviours that employees will recognize as a reflection of these characteristics. To safeguard employee well-being, employers can:
1. Create an actionable plan
Identify protocols related to social distancing, hand hygiene, face coverings, office cleaning, etc. Share the plan with employees before they are asked to return to work so they can raise any questions and offer feedback.
2. Consider individual circumstances
Establish which employees may need flexibility due to child-mind responsibilities, recent bereavements, mental il health, or physical health issues. Discuss the return-to-work options on a case-by-case basis and offer options such as changing working hours.

3. Practice compassion

towards employees
Some employees may not exhibit any concerns about returning to work, while others may be experiencing high stress and anxiety. Don't dismiss employees' reactions, validate them and find workable solutions.
4. Show appreciation
 Even if employees are excited about returning to work, they will still be managing change and uncertainties. Find ways to say thank you on a regular basis.
5. Prepare for change
The pandemic is an evolving situation which is unpredictable at the best of times. Be prepared for all contingencies, including returning to work from home, increased mental distress, and positive COVID-19 cases in the workplace.
eHealth interventions
eHealth interventions such as smartphone applications, web-based platforms and wearable devices have become a go-to for businesses to offer additional support for employee well-being. Robust eHealth interventions aim to teach principles based in evidence-based therapeutic modalities such as mindfulness, behavioural activation, and shifting cognitive distortions. Physical eHealth interventions may be supported by wearable devices to track exercise, heart rate, blood pressure, etc. There is some evidence demonstrating improved outcomes in the general population using eHealth interventions such as reduced work-related stress, decreased anxiety, and improved sleep quality and engagement in physical exercise5 .
An initiative that can help support eHealth interventions is Zevo Health's annual Fittest Workplace Challenge (FWC). This is a fitness based challenge that is designed to optimise employee engagement and strengthening intracompany relationships for the full duration of the competition.
It should be noted however, that eHealth interventions are not suitable for those with enduring mental ill health. Using eHealth to support employee well-being should be carefully researched to ensure interventions have been developed alongside experts in the field and undergone evidence-based, scientific trials.
Conclusion
When planning for a return to work, employers should carefully consider the mental and physical health impacts the pandemic has had on their employees. They should engage in behaviours that reflect health organizational culture, including integrity and respect for their employees. eHealth interventions can be used as adjunct support for employee well-being if properly researched but, traditional interventions such as EAP or GP referrals should be made where enduring mental ill health is exhibited.

References
1.College of Psychiatrists of Ireland. (2021, January). Covid-19 impact on secondary mental healthcare services in Ireland. https://www.irishpsychiatry.ie/wp-content/uploads/2021/06/Summary-of-Results-Impact-of-Covid-19-on-MHS-CPsychI-2nd-Survey-05.20-to-01.21.pdf
2.Goldstein, H.W., Pulakos, E.D., Semedo, C., & Passmore, J. (2017). The Wiley Blackwell Handbook of the Psychology of Recruitment, Selection and Employee Retention. Wiley-Blackwell.
3.Maynooth University. (2020, April 16). COVID-19 mental health survey by Maynooth University and Trinity College finds high rates of anxiety. https://www.maynoothuniversity.ie/research/maynoothworks/news-events/latest-news/covid-19-mental-health-survey-maynooth-university-and-trinity-college-finds-high-rates-anxiety#main-content
4.Oakman, J., Kinsman, N., Stuckey, R., Graham, M., & Weale, V. (2020). A rapid review of mental and physical health effects of working at home: How do we optimise health? BMC Public Health, 20, 1825. https://doi.org/10.1186/s12889-020-09875-z
5.Paganin, G., & Simbula, S. (2020). Smartphone-based interventions for employees' well-being promotion: A systematic review. Electronic Journal of Applied Statistical Analysis, 13(3), 682-712. doi: 10.1285/i20705948v13n3p682