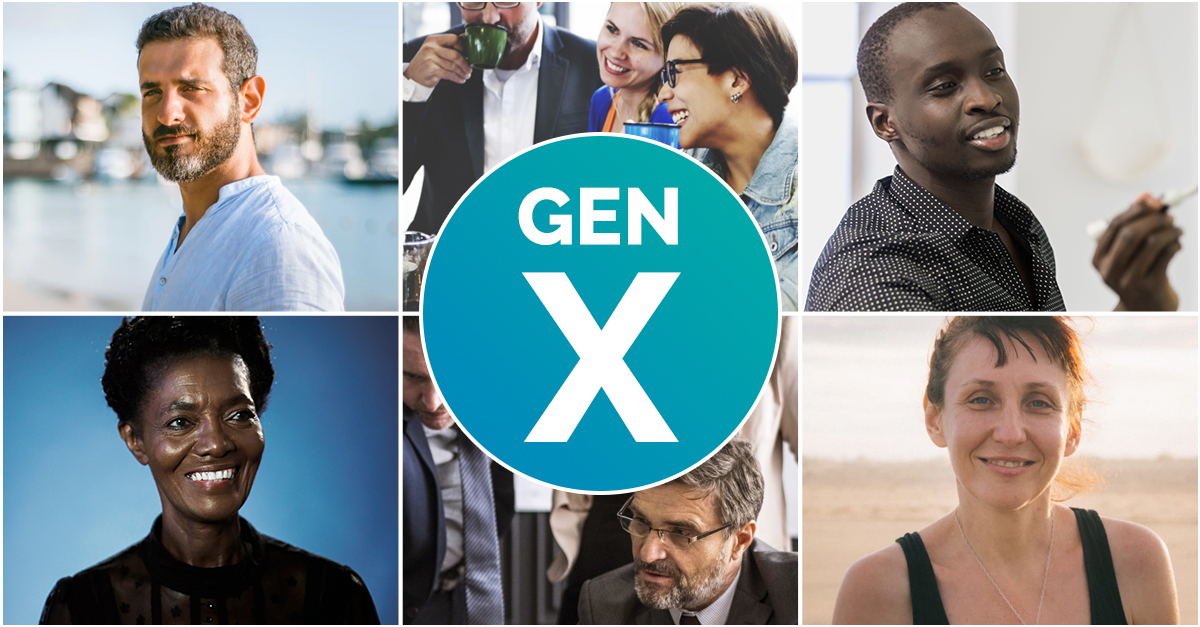 While workplace wellness programmes are often associated with the Millennial generation, in reality an organisation's workforce is a combination of a multitude of generations, and with this diversity comes a diverse set of wellbeing objectives. Generation X, those born between the years of approximately 1965 and 1979, whether in entry-level positions or leadership roles, is no exception to this.
The same can be said for wellness programmes. As many modern wellness programmes are designed to attract emerging talent in the competitive hiring environment that currently exists in Ireland, it is also important to factor in the wellness and health of the minority, such as Generation X, that are within our employ.
Common Characteristics of Generation X
It is important to understand the characteristics that formulate the values of a demographic in order to determine the wants and needs of said demographic in the workplace. The success of a workplace wellbeing programme depends on many factors, one of which being that it is tailored to the needs and goals of each employee in the organisation. With regards to Generation X, some of these characteristics include:
Individualism
Generation X is independent, resourceful, and self-sufficient. They value freedom and responsibility in the workplace. Many in this generation display a casual disdain for authority and structured work hours, as well as disliking micro-management and embracing a hands-off management philosophy.
Technologically Adept
The first generation to grow up with computers, while they may not be considered as "technology native" as Millenials, technology is still woven into their lives. As firms and corporate departments integrate new technological tools, this generation has learned and adapted. A common characteristic of Gen X'ers is their required comfort level with smartphones, email, laptops, tablets and other technology employed in the workplace. A report from CompTIA, concluded that the level in which an organization embraces technology in the workplace influences 66% of Gen X'ers on where they decide to work! 
Value Work/Life Balance
An important aspect of work-life balance is the amount of time a person spends at work. Evidence suggests that long work hours may impact personal health, jeopardise safety and increase stress. In Ireland, some 5% of employees work longer than average hours.
Unlike previous generations, those in Generation X work to live rather than live to work. Gen X'ers appreciate the fun in the workplace and adopt a work hard/play hard mentality. This generation's managers may often incorporate humour and games into work activities.
Wellness programmes are most effective when they are built around research carried out before a programme is implemented within a company. This research can be conducted through surveys, interviews and focus groups to determine the needs of the diverse workforce in an organisation. It is critical to have a benchmark to measure the effectiveness of a programme before it is implemented throughout a company.
Keeping this in mind, we have identified several factors that should be considered when it comes to the wellbeing of Generation X'ers in the workforce. 
Flexibility
As employees get older, flexibility within the workplace is now not only a perk for some positions but a requirement for many families. It's no longer practical to make assumptions as to what a traditional family or routine looks like, and firms must ensure they can adapt to the varied needs of their team. 
Based on our previous section regarding Characteristics, many Generation X'ers have to balance their time between children, elderly parents and working hours (potentially in that order), with 81 percent of Gen X'ers citing work flexibility as a factor when evaluating a job prospect. Providing a more flexible working environment will also help attract talent as well as maximise productivity from your current people. This stems from the understanding that not everyone is productive in the same environment, during the same hours, or under the same conditions. 
As it is often common practice to locate staff in different offices throughout the country/world it is important to incorporate regional and group-based activities in a wellness programme to facilitate this desired flexibility. Zevo Health's wellness technology gives employees the freedom to slot wellness into their lives and allows them to access their plan anytime and anywhere. The result is directly strengthened teams, development of healthy habits and connecting employees to the company culture.
Physical and Nutritional Health
The health needs of Generation X'ers differ from other generations. According to a report by CDC Gen X'ers top health priority is to lose weight, compared to millennials who's top health priority is "to get more sleep and reduce stress" Employees have different wellbeing issues, so, therefore, an off the shelf programme will not be effective and generate the results that leaders and employees are looking for. 
A programme designed by nutritionists to educate and motivate employees on healthy eating habits can in fact help manage weight, increase fitness, reduce stress and motivate employees on the benefits of healthy eating. At Zevo, our programme is an individually tailored nutritional programme that is used to monitor participants' progress in achieving their health and weight management goals through initiatives including:
Cookery demonstrations

Meal Plans

Ability to create shopping lists

Educating on healthy eating lifestyles

Tips to help prevent the afternoon slump

Specific foods to give a "natural lift"
Healthy meals &  snack ideas to boost energy and focus

Reading food labels

Food &  beverages high in added sugar 

Stress Management &; Nutrition

Nutrition for Fitness

Fast Healthy Meals for a Busy Lifestyle
Organisations need to encourage healthy behaviours in work. Our team of mental and physical health experts conduct in-depth research and develop and tailor strategic nutritional programmes based on the outcome of our analysis. We have found this to be the most effective method of implementing purpose-built wellness programmes that create impactful positive change on both micro (individual) and macro (organisational) levels.
Emotional Health
As individuals progress in their roles, it can add increased pressure and stress to the already heavy workload and work-life balance employee may face. For example, if a Gen X'er is mentoring other employees while also trying to raise a family, it can be demanding and leave an individual feeling overwhelmed.  Ensuring an organization's culture enables employees to speak freely regarding mental health issues they may be experiencing can directly promote an atmosphere of open communication and comradery, paving the way for a positive effect on the emotional well-being of the organisation as a whole. 
Leadership and career progression
While Generation X may be equally capable of digital tasks as millennials, they also show mastery when it comes to leadership skills more on par with leaders of the baby boomer generation. In fact, according to the Global Leadership Forecast, 2018 which identifies over 25,000 leaders in 54 countries, Generation X accounts for 51 percent of Leadership roles globally. Despite their growing influence, as well as remaining loyal employees, they are often the most overlooked generation for promotions, as well as being the slowest to advance, behind both Millenials and Baby Boomers.
Demonstrating loyalty, a willingness to take on a heavy workload, and a powerful combination of digital and traditional leadership skills, Gen X is a pool of highly capable leaders that are in danger of being overlooked, overworked and overstressed. Organizations that want to retain and develop their Gen X leaders should utilize wellbeing platforms to gain insights into the wellbeing of their employee proactively, rather than reactively. Organisations should also:
Provide leaders with more external guidance.

Encourage leaders to challenge the workplace status quo

Leverage the latest in wellness technology to support traditional development.
To Conclude
We understand that the goals and needs of employees, including those of Generation X, are ever-changing. It is important to continuously review the effect our wellbeing programmes has within the organisation. By reviewing the programme, we can identify and analyse the data that has been gathered since its adoption. The components of a company regularly change and approach to employee wellbeing should be continuously altered to ensure those changes are being proactively responded to.
To find out more about how Zevo Health can help you use expert-led research and digital tools to drive business results, Contact us here
References: 
https://www.cdc.gov/workplacehealthpromotion/initiatives/resource-center/pdf/WHRC-employee-engagement-multigenerational-508-h.pdf
https://www.nextgeneration.ie/blog/2015/09/generation-x-vs-y-vs-z-workplace-edition
https://www.cnbc.com/2018/04/11/generation-x–not-millennials–is-changing-the-nature-of-work.html