The Zevo Health Wellbeing Calendar
12 Months of Free Wellbeing Activities at your Fingertips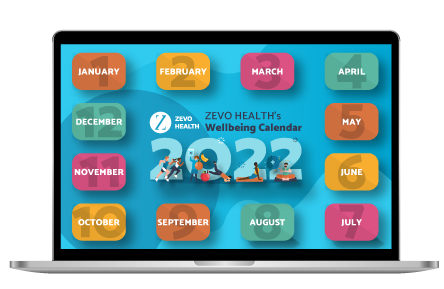 Zevo Health's Wellbeing Calendar is designed to create new standards for workplace wellbeing. Our health and wellbeing calendar is created to enhance the wellbeing of every individual and support employees to live healthier lifestyles.
Our Wellbeing Calendar is packed with loads of resources created by Wellbeing Specialists that focus on Physical, Financial, Mental, and Social Wellbeing.
We focus on content that is designed to have a positive impact on every individual and ensure we are all prioritising our wellbeing every day.
Sign up for our monthly calendar to:
Access monthly wellbeing podcasts, webinars, articles, and videos created by Wellbeing Specialists
Kick start your wellbeing journey with daily wellbeing habits
Content created around world health days
Tips and tricks from a Wellbeing Specialist on how to boost your wellbeing, both inside and outside the workplace
Early access to sign up to our leading workplace wellbeing events
Sign up for your 2022 Yearly Wellbeing Calendar