Information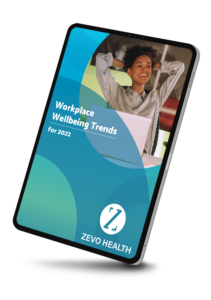 Despite the unpredictable nature of life in these times of crisis and technology advancement – there are clear trends emerging in the sphere of employee wellbeing that can pave the way for employers to be somewhat primed for what's to come over the next few years.
The E-Book will give a snapshot of emerging topics and themes that are taking center stage as employee health and vitality gains greater attention.
Our findings come from our direct client experiences in 2021, alongside our National Workplace Wellbeing Survey.
Download our e-book to learn more about what to expect emerging in the workplace in 2022.