Information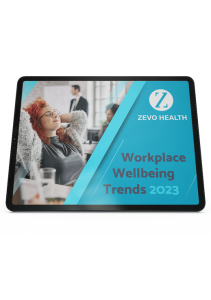 Our annual workplace wellbeing trends eBook is a combination of forecasted trends for the year coming and reviewing key wellbeing trends that dominated in the past year. This eBook is created to allow organsiations to prepare for the wellbeing trends emerging to ensure they remain competitive and appealing to future and current employees.
These predictions are based upon input from multiple channels including our workplace wellbeing survey we conducted late last year, current research, publications, feedback from our wellbeing specialists, and direct engagement with our clients.
This eBook will explore the following workplace wellbeing trends:
Mental Health (Psychosocial Assessment)
Nutrition
Parental Wellbeing
Men's Health
Women's Health
Financial Wellbeing
Leadership Skills
Social Connection
Biometrics
Addictive Behaviors
Stay ahead of the wellbeing trends for 2023 and download our free eBook today.